The mission of The 7th Foundation is to be a catalyst that spurs meaningful positive change within people's lives and our society in order to create a world of lasting peace and happiness that everyone can enjoy.

How Are We Accomplishing Our Mission?
1. We Are Starting Now: We have just started, so please forgive us. Time is short, and everyone felt that it was better to get something workable out a soon as possible than wait for that someday when everything was perfect. We will be refining everything as we go forward. To do this, we could use any constructive advice and help you can offer.
Please Feel Free to Contact Us Anytime - Click Here
2. Living The Way: We use The Way as a guide and use the teachings as the foundation of our organization.
Learn About The Way Here -  Buy the Book - Click Here
3. Spread the Word of The Way. Within The Way, there are principles and insights that can change all our lives and our society for the positive. On a basic level, our main mission as an organization is to create a general understanding of key messages found within The Way. The larger goal as an organization is to help all people and our society move in positive directions.
Click Here If You Want to Help Us Spread the Word
4. Helping People Who Are Following The Way: We also are providing information and resources that can help you in everyday life as well as other goods and services listed below. We are working to expand our offerings as quickly as possible. Let us know what you need.
To See All Our Information and Resources - Click Here
Downloads - For The Way and Others  - Click Here
5. Provide Goods and Services: The 7th Foundation can do a lot to help everyone and our society. The Goods and Services currently offered is a short list and a starting point. As we grow, we will work to provide all you desire. So please join with us now and let us know what you want. We will create it for you.
View All Our Goods & Services - Click Here
Store - Find the Best for Less
Training, Courses & Events - Accelerate Your Learning
Media Label & Contests - Check Out the Projects and Contests - Get on The Album
Certifications - Become a Coach or Trainer
To View All the Ways You Can Hire Us - Click here
Transformational Life Coaching
Organizational Training and Coaching
Your Events: Keynotes & Presentations
Signature Brands and Strategic Alliances
6. Uniting with People and Organizations: Another important way we are working to fulfill our mission is by embracing our true power as outlined within Step 6 of The Way. Here our goal is to help and unite with people and organizations to peaceably create positive change within our world. We are seeking to do this in many ways.
To See All The Way's You Can Unite with Us - Click Here
Memberships: Join with us so we can help you and you can help us make a positive difference in our world! Being a member means that you will receive discounts, free stuff, exclusive offers, and interesting information. You can also be invited to help make a positive difference in our world. There is no obligation and you can do as much or as little as you wish. You can cancel anytime.
Memberships - Click Here for More Information
Social Media: Please Join Us on all our social media and give us a Thumbs Up or a Like, Subscribe or Follow, Comment, and please Share us with your people and encourage them to share! Please also invite us to join you so we can do the same for you.
Click here for Links to All Our Social Media
Groups and Organizations: We will join with good groups and work to unite all those fighting for the same causes. We will also be creating our own groups to fight for wholistic change within our society to truly find solutions for poverty since we need to include many facets of our society like our legal system, education, business, and more.
If You Are A Group or Organization which wants to Unite with Us,
Please Click Here and Let Us Know 
Make Money with Us: We are working to find ways to help you make money as well as finding good people to work within our organization.
Click Here to Find Out All the Ways to Make Money with Us
Careers: As we grow, we need talented people. If you would like to not only provide for you and yours but also make a real difference in the world. give us a look. Who knows, you might find what you have always been seeking.
Click Here to See If We Can Work Together
7. Seeking Help: We need your help and support. If you like what we are doing, you can help us tremendously just through a few clicks. This will allow us to help you and others even more. So please help and support us where you can!
Learn All the Ways You Can Help - Click here
Endorse Us and/or Give Testimonials: We need your help to help others. People would like to know about your positive experience. So, if you appreciate our work, please write or record something and post it online.
Tell Us About or Give us an Endorsement or Testimonial Here
Join Our Social Media: Join Us on All our Social Media and give us a Thumbs Up or a Like, Subscribe or Follow, Comment, and please Share this with others and encourage them to share. Also, please invite us to join you so we can do the same for your positive messages and ventures.
Give Us Your Advice: Do you have ideas, questions, a good Cause that needs help, or something you feel we need to know?
Please feel free to Contact Us
8. Seeking Funding: We are a bootstrapped startup with great potential as a business and as a positive force. As with any startup, we need money to survive and grow. We can join together to accomplish this. Those with money can give a lot without it affecting their lives, and for the rest of us, we need only remember $1 from lots of us goes a long way. Help spread the word. The more of us there are, the easier this all becomes.
Learn All the Ways You Can Help and Fund Us Here
Donations: Gifts that we can use to build the organization. Gifts can include money as well as other forms of wealth such as property, jewelry, and more.
Crowdfunding: Here we join together with lots of others to give a little to fund a project. We are creating crowdfunding campaigns now, so if you are interested, please fill out the form below and we will notify you when they are live!
See Our Crowdfunding Campaigns – Click Here
Goods and Services: Buying our Goods and Services or Hiring Us also helps fund us.
See All Our Goods and Services Here
9. Solving Societal Issues: We will be working to provide solutions for all our individual and societal problems. Our goal is to create starting points where we can work with everyone to find and implement true solutions. We will be covering issues like Depression and Suicidal Thoughts, Addiction, Abortion, Poverty, Human Rights, Pollution, and more.
To See All the Issues - Click Here
10. Starting a Movement: Our movement honors our mission which is to be a catalyst that spurs meaningful positive change within people's lives and our society in order to create a world of lasting peace and happiness that everyone can enjoy. The movement will focus on different issues as well as work to unite many worthwhile groups together so we can have a greater impact.
To Learn More & Join the Movement - Click Here
Mission Conclusion: Those are the primary ways we are working to fulfill our mission right now. As we move forward and grow, we will add more. The bottom line is that we all need to work together to ensure that the messages within The Way are realized in our world. The success or failure of this mission is dependent on all of us. So please help us spread the word and help us improve our message and our organization.
Our 2 Current Mottos
A motto is a short saying that expresses a rule to live by. Since the author of The Way started collecting positive statements, these two have always held a special place.
"All for One, One for All, United We Stand, Divided We Fall"
This saying is from the Musketeers. If you stop and really think about this motto, it is very deep and truly a wonderful core ideal to live by as an individual, organization, and as a society. It embodies the idea of the golden rule and how we as a species will succeed or fail. I always liked it because it is artful in the way it rhymes in English. I also like the way it was used as a pledge and motivator before some large goal the three were about to undertake. It was their pledge to one another as well as a motivator. We can also use this as a chant when we get together in large groups. It will show our solidarity and desire to find true solutions with and for all of us.
"Out of Many, One" or "The Many Become One"
This motto was used to describe the United States of America. "E Pluribus Unum" which is Latin for "Out of Many, One," refers to the United States forming into one country from the original thirteen colonies. I have always liked this idea. I wondered why they did not do it in English. I like this idea as it applies to humanity's true power. The many of us, "the masses," focused as one can accomplish just about anything. All of us centered in rational positive purpose is how we save our world and build our True Society.
PeaceAce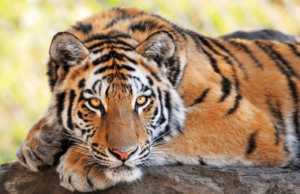 PeaceAce is the name of our Avatar & Mascot and is an animal - often a Tiger. You can find us around the web as realPeaceAce. You can also find us using PeaceAce.com. You can think of PeaceAce as helping to show us The Way.
Look for @realPeaceAce Around the Web
End of Page
Site Quick Links Below