The One Movement
One People | One World | One Movement
Join the Revolution of Peace!
The One Movement is for all good people and organizations who want to see more positive changes within our world happen faster.
!!Special Notice - Membership Drive On Now!!
Starting Point - Facebook Groups!!
Join Now - Don't Miss Anything!!
Help Spread The Word!!!
Launch on Facebook - Join Now: https://www.facebook.com/groups/The1Movement
(We have to start somewhere, and cant be everywhere...yet. So we have chosen to launch on Facebook as it gives us the most reach.)

The fact is Unity is Humanity's Greatest Power! The problem is good people and organizations are fragmented, segregated, and divided. This means that while we have enough people, willpower, and resources to do what needs to be done, we can't accomplish our big goals because we are not clear, focused, or unified. Think about how much power for positive change we will all gain by joining and focusing all organizations, people, groups, and businesses who are separately working for equality, justice, world care, and fixing the other wrongs in our world. Now is the only time in human history that we can make these needed global changes, for more of us are connected and awake than ever before. Our time is short, and the need is great; we must unite before it's too late! We must make some big changes now if we are to not only survive but thrive.
The One Movement is where we can all unite and gain the power we need. We are joining all good people and organizations to gain the power that is needed. We will share, explore and refine the techniques to peacefully force positive change within any organization or government. We are the catalyst that spurs meaningful positive change within people's lives and our society in order to create a world of lasting peace and happiness that everyone can enjoy!
Join Now to Make a Real Positive Difference in the World!
Join Now for Equality, Justice & to Save Our World!
You have nothing to lose yet possibly everything to gain!
=====
Our Motto: All for One, One for All, United We Stand, Divided We Fall!
This was chosen because it is profound and truly a critical core value to live by as an individual, organization, and as a society. This is because it embodies the idea of the golden rule (Treating People as You Want To Be Treated - See Universal Law 5 Here) and how we, as a species, will succeed or fail. We use this as a chant at events and protests. It shows our solidarity and desire to find true solutions with and for all of us. It's also great because it works as a shared pledge and a great motivator.
Hashtags: #WeR1 #We1 #WeOne #WeWon #OnePeople #OneWorld #TheOne #TheWay
=====Please Also Consider Our Other Groups =====
The One Tribe: Helping everyone become their best and live wonderful lives!
Join on Facebook: https://www.facebook.com/groups/The1Tribe
To Learn More About The One Tribe- Click Here
The One Party: Uniting all good people and organizations to make government work correctly for everyone!
Join on Facebook: https://www.facebook.com/groups/The1Party
To Learn More About The One Party- Click Here
The 7th Foundation Facebook Page: The sponsor of everything! Please like and follow this page too!
Follow on Facebook:  https://www.facebook.com/RealPeaceAce
To Learn More About The 7th Foundation - Click Here
Andrew on Facebook: Follow and Friend Him! https://www.facebook.com/AndrewCalderella
The Basics
By joining The One Movement, you agree to take a look at opportunities to help yourself and your loved ones become their best as well as how you can unite with other people to make positive lasting changes within your local society and world. You are not required to do anything other than be open to taking a look. Our movement will focus on a wide variety of issues as we move forward. There is no end to the good that needs doing. You can make a real positive difference in the world - together, we can all go much farther than otherwise.
As The One we understand and adhere to the principles outlined within
the video series on How to Peacefully Force Positive Change.
To give you an idea of how our movement will approach major issues
please start by watching the video on How to Fix Our Justice System.
To go to the video click on the link above or the image below.
By Filling Out this Form, You Will Become a Member of The One Movement. This membership will entitle you to ongoing benefits and unite you with other people who, like you, want to be their best, help others to do the same, as we all work to create a wonderful world. We will not share your information with anyone. We will not spam you. You can cancel and delete your information anytime.
Please Help Spread the Word!
Click on the Icon Below to Quickly Connect & Share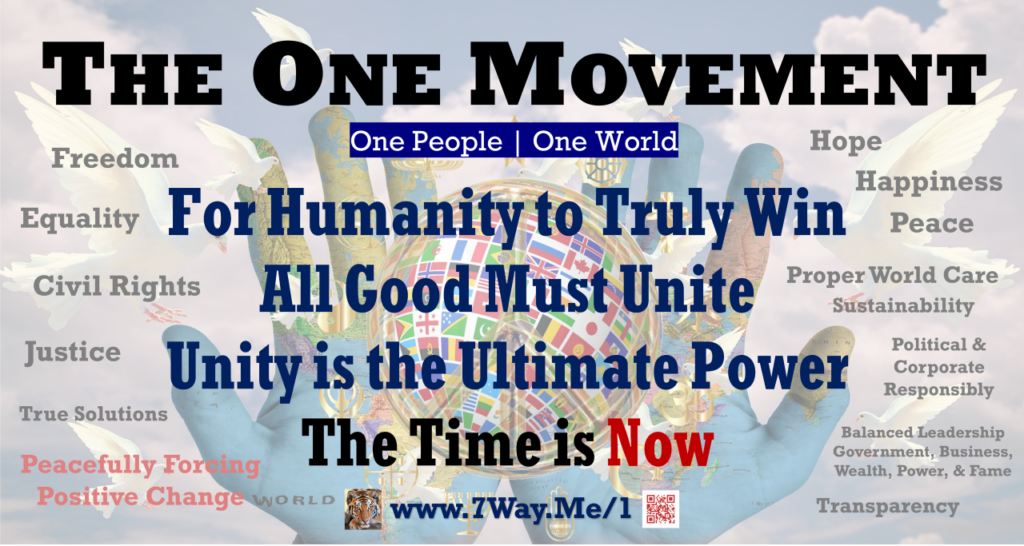 Twitter  Facebook  LinkedIn  Pinterest  Digg  Blogger  Reddit  StumbleUpon  Tumblr  Myspace  Email
End of Page
Site Quick Links Below